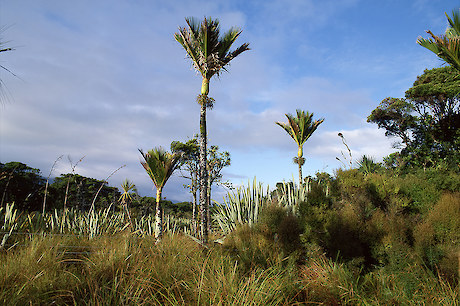 Tēnā koe e hoa. A generation on from its first edition, it is thrilling for us to see Ngā Uruora back in print, and in such fine company as a VUP Classic.
For our whānau, we find ourselves in a busier world, one where the concepts of 'ecosystem' and 'interconnectedness' have become everyday ones. 'Ecosystem' is used to describe everything from digital networks to marketing theory. The ecosystem that Geoff got us all thinking about—Aotearoa's natural world—is now precariously balanced, as we hurtle towards the new climate reality.
But somehow we know that Dad—twinkling eyes, twitching moustache—would still be gleaming with hope.
We lost Geoff too early, in 2009. Despite our heartache, we were sustained by the aroha we received from the many people that Geoff's mahi touched. It became clear that Geoff's deep knowledge of Aotearoa's landscapes was not lost with his passing. He would have downplayed his influence, but we know this book, and his passion, has inspired so many people to restore our wild side.
His church was the bush and he communed as often as he was able. Often the bush would come to him. His ashes lie under a pōhutukawa, now pushing 5m in height. This tree started as a seed which germinated between panels of his weathered Subaru Legacy. As he travelled around the country it grew into a wheelhub bonsai. Native birds were also drawn to Geoff. On a last trip to Ngā Manu sanctuary kākā cloaked his shoulders. But his spirit bird was the kererū—the keen signifier of a healthy forest ecosystem. He was like a chick-magnet to them: and they were always keen to impress with that swish new swoop, catching the last rays of the sun at the peak of the arc before the plunge.
Geoff's relationship with nature was sensual and holistic; he approached the wild as a full body experience. He was a Pākehā scholar of kaitiakitanga. And he'd be tickled pink that his first book is now a classic. It would make him smile too that it's just on a human generation—23 years—since its first printing in 1995. Today, Geoff would be Koro Hepi to 11 mokopuna—all doing exceptionally well.
Thank you to all that have reached out to us so kindly and especially the 'bloody good jokers' that have kept in touch as friends. However, our greatest appreciation is to those hardworking folk that have been prompted into action by this book.
Our special wild places need you to love and care for them, now more than ever. We have heard wonderful stories of new projects, ambitious endeavours, restored forests and wetlands, many inspired by Geoff. We hope that this book will enchant you also.
Keep up the good work—and may you in turn inspire others with your own generosity of spirit.
Ngā manaakitanga.
Turi, Matiu, Marika, Tim, Lindsay and the Park whānau
Wellington, May 2018